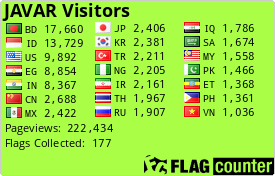 JAVAR Online First Articles
These are peer-reviewed, revised, and accepted articles, but not yet
assigned to an issue.
---
Knowledge about veterinary anesthesia and the scope of anesthesiology for farmer


Mira Debnath, Ashit Kumar Paul



Implementation of contemporary DNA Based Techniques on Traceability Process of Small Ruminant Species and Products


George P Laliotis, Panagiota Koutsouli, Iosif A Bizelis



The potential use of Infrared spectroscopy and multivariate analysis for authentication of beef meatball from dog meat for Halal authentication analysis


Abdul Rohman



The use of species-specific primer targeting on D-loop mitochondrial for identification of wild boar meat in meatball formulation


Abdul Rohman



Determination of lowest immune protective titer against Salmonella gallinarum and Salmonella pullorumin chicken vaccinated with BAU-Salmonella bivalent vaccine


Eusha Islam, Rajib Saha, Md. Golzer Hossain, Shah Md. Abdur Rauf, Md. Mansurul Amin, Sukumar Saha



Garlic Feed Inclusion and Susceptibility of Broiler Chickens to Infectious Bursal Disease


Omolade Oladele, Oluwaseun Esan, Ini Akpan, Francis Enibe



Histological studies on the Proventriculus of turkey


Rasha Beheiry



Ranking of Endurance Horses in Training based on some Selected Biochemical and Physical Parameters


Noraniza Mohd Adzahan, Lawan Adamu, Rasedee Abdullah



Effect of Some Genetic and Non-Genetic Factors on Productive and Reproductive Traits of Egyptian Buffaloes


Sherif Ibrahim Ramadan



PHYTOCHEMICAL SCREENING, PROXIMATE ANALYSIS, MEDIAN LETHAL DOSE (LD50), HAEMATOLOGICAL AND BIOCHEMICAL EFFECTS OF VARIOUS EXTRACTS OF ABRUS PRECATORIUS SEEDS IN MUS MUSCULUS


Matthew Terzungwe Tion, Hanna Fotina, Saganuwan Alhaji Saganuwan



Effect of stocking density on growth performance, some blood parameters and carcass traits in purebred Californian and crossbred rabbits


Tamer Mohamed Abdel-Hamid



Announcement !!
If you have real-interest to
be a part of editorial and/or reviewer team, please send your resume to the editor for consideration. It is noted that the JAVAR is run by a group
of volunteer reviewers and editors who are experts
in the related fields.
---