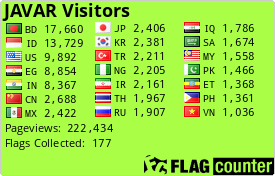 JAVAR Online First Articles
These are peer-reviewed, revised, and accepted articles, but not yet
assigned to an issue.
---
Effect of fermentation using Chrysonillia crassa or Monascus purpureus on nutritional quality, antioxidant and antimicrobial activities of used rice as a poultry feed ingredient


Turrini Yudiarti , Sugiharto Sugiharto , Isroli Isroli , Endang Widiastuti , Hanny Indrat Wahyuni , Tri Agus Sartono



Phenotypic Detection of Methicillin-Resistant Staphylococcus aureus in village chickens from Poultry Markets in Maiduguri, Nigeria


Iliya Dauda Kwoji, Solomon Jauro, Jasini Athanda Musa, Yusuf Lekko Madaki, Sabo Isa Salihu, Hassan Danchuwa



STUDY ON SEMEN FREEZING PRESERVATION ON KINTAMANI BALI DOGS


I Ketut Puja, Ni Made Sawitri, Nisa Maharani, Luh Gde Sri Surya Heryani, Anak Agung Gde Oka Dharmayudha, I Wayan Nico Fajar Gunawan



Effects of calpastatin gene polymorphism on hematology and selected serum biochemical parameters in Awassi lambs


Khaleel Ibrahem Jawasreh, Zuhair Bani Ismail



Epitope-based vaccine as a universal vaccination strategy against Toxoplasma gondii infection: a review


Khalid Hajissa, Robaiza Zakaria, Rapeah Suppian, Zeehaida Mohamed



Variation over time in wing size and shape of the coastal malaria vector Anopheles (Cellia) epiroticus Linton & Harbach (Diptera: Culicidae) in Samut Songkhram, Thailand


Tanawat Chaiphongpachara, Sedthapong Laojun



Toxicological Studies and Bioactivity-Guided Identification of Antimicrobially Active Compounds (AAC) from Crude Aqueous Stem Bark Extract of Boswellia dalzielii (CASEB)


Bahauddeen Salisu Dandashire, Abdulkadir Magaji Magashi, Bashir Abdulkadir, Muhammad Adamu Abbas, Mohammed Dauda Goni, Abdulmalik Yakubu



Evaluation of Wound Healing Potential of Pomegranate (Punica granatum) Whole Fruit Extract on Skin Burn Wound in Rats (Rattus norvegicus)


Bambang Sektiari Lukiswanto, Alya Miranti, Sri Agus Sudjarwo, Hardany Primarizky, Wiwik Misaco Yuniarti



Risk Assessment on Rabies Entry through Hunting Dogs Movement with Semi-Quantitative Approach to Sumatera Island, Indonesia


Amanatin Amanatin, Etih Sudarnika, Denny Widaya Lukman, I Wayan Teguh Wibawan



Evaluation of anaesthesia produced by Ketofol in Acepromazine or Medetomidine sedated dogs


Moses Njino Wamaitha, Eddy M. Mogoa, John D. Mande


Announcement !!
If you have real-interest to
be a part of editorial and/or reviewer team, please send your resume to the editor for consideration. It is noted that the JAVAR is run by a group
of volunteer reviewers and editors who are experts
in the related fields.
---