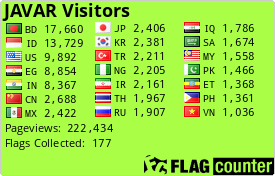 JAVAR Online First Articles
These are peer-reviewed, revised, and accepted articles, but not yet
assigned to an issue.
---
Prevalence of diseases and disease conditions in cattle and Goats at the Upazilla Veterinary Hospital, Debidwar, Comilla


Md Badiul Alam, Tareq Mahmud, Shahneaz Ali Khan, Ariful Islam, Md Abdul Hai, Mohammad Mahmudul Hassan



Influence of transhumance on the spread of Rhipicephalus microplus (Canestrini, 1888).in Benin


Justin Kossi ADINCI, Yao Akpo, Philippe Sessou, Roland Eric Yessinou, Safiou Bienvenu Adehan, Abdou Karim Issaka Youssao, Marc Napoléon Assogba, Souaïbou Farougou



Body weight and growths curve parameters evaluation of three chicken genotypes (Gallus gallus domesticus) reared in claustration


Lydie Aya N'DRI, Wenceslas Bekoin Hermann KOUA, Simon Valencourt AHOUCHI, Beatrice Abouo ADEPO-GOURENE



Zootechnical performance of Girolando cattle at Kpinnou breeding Farm, South-West of Benin Republic


Yacoubou ALASSANE, Serge Gbênagnon AHOUNOU, Soumanou SEIBOU TOLEBA, Achille Amour ADJAKPA, Ignace Ogoudanan DOTCHE, Isidore HOUAGA, Nassim MOULA, Nicolas ANTOINE MOUSSIAUX, Jean-Luc HORNICK, Issaka YOUSSAO ABDOU KARIM



Announcement !!
If you have real-interest to
be a part of editorial and/or reviewer team, please send your resume to the editor for consideration. It is noted that the JAVAR is run by a group
of volunteer reviewers and editors who are experts
in the related fields.
---