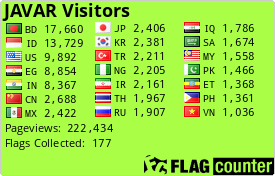 JAVAR Online First Articles
These are peer-reviewed, revised, and accepted articles, but not yet
assigned to an issue.
---
The effects of anesthetic drug choice on heart rate variability in dogs


Nakrob Pattanapon, Ratikorn Bootcha, Soontaree Petchdee



Salmonella infection in clinically healthy dogs in Makurdi, Benue State, North-central Nigeria: a potential source of infection to humans


Chinedu Adive Akwuobu, Joseph Odeh Agbo, Raphael Agbo-Peters Ofukwu



Investigation of animal anthrax outbreaks in the human–animal interface at risky districts of Bangladesh during 2016 – 2017


SK Shaheenur Islam, Shovon Chakma, AHM Taslima Akhter, Nelima Ibrahim, Faisol Talukder Talukder, Golam Azam Chowdhuary



Detection Of Multi-Drug Resistant (MDR) Escherichia Coli And Tet Gene Prevalence At Pig Farm In Kupang City, Indonesia


Novalino Harold Geoffrey Kallau, I Wayan Teguh Wibawan, Denny Widaya Lukman, Mirnawati Bachrum Sudarwanto



Effect of Some Genetic and Non-Genetic Factors on Productive and Reproductive Traits of Egyptian Buffaloes


Sherif Ibrahim Ramadan



Hematological reference values for apparently healthy fat-tailed sheep (Dhumba) in Bangladesh


Shariful Islam, Md Kaisar Rahman, Jinnat Ferdous, Muhammad Belal Hossain, Mohammad Mahmudul Hassan, Ariful Islam



Prevalence of Sarcocystosis in slaughtered Carcasses and Histopathology of them, Southeast of Iran


MahdiKhoshsima Shahraki, Abdolhakim Ghanbarzehi, Mansour Dabirzadeh



SEROPREVALENCE, GEOGRAPHICAL DISTRIBUTION AND RISK FACTORS OF PESTE DES PETITS RUMINANTS IN CHAD


Ouagal Mahamat, Tchari Doungous, Bidjeh Kebkiba, Hadjé Arabié Oumar, Assandi Oussiguéré, Adam Hassan Yacoub, Adoum Goudja, Mahamat Guindé, Ahmat Hassan Moussa



Comparative Morphological Interpretations on the Bones of the Pelvic Limb of New Zealand Rabbit (Oryctolagus cuniculus) and Domestic Cat (Felis domestica)


Hanaa Mohamed El-Ghazali, Eman Ismail El-behery


Announcement !!
If you have real-interest to
be a part of editorial and/or reviewer team, please send your resume to the editor for consideration. It is noted that the JAVAR is run by a group
of volunteer reviewers and editors who are experts
in the related fields.
---