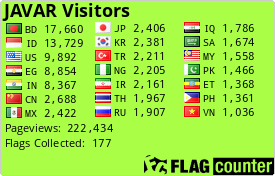 JAVAR Online First Articles
These are peer-reviewed, revised, and accepted articles, but not yet
assigned to an issue.
---
Surgical management of extramural ectopic ureter by modified colposuspension following ureteroneocystostomy in a young female Siberian husky dog


In Seong Jeong, Md. Mahbubur Rahman, Hwangmin Kim, Sehoon Kim



Announcement !!
If you have real-interest to
be a part of editorial and/or reviewer team, please send your resume to the editor for consideration. It is noted that the JAVAR is run by a group
of volunteer reviewers and editors who are experts
in the related fields.
---