- Quick review:
average 21 days
- Quick decision: ~ One month
- Minimum manuscript processing fee
- Open access (CC BY-NC)
- Online First version
- Frequency: 4 times a year
- Better author support
---
FOLLOW US ON -
NCBI, DOAJ, HINARI,
CABI,
ScopeMed, AGORA,
EBSCO,
SHERPA, TEEAL, BanglaJOL,
CrossRef, Google Scholar, EJL, Research Bib, ScienceGate,
NewJour, Index Scholar..(All)
---
Some Conferences-
Journal of Advanced Veterinary and Animal Research (JAVAR)
- is an open access, international, peer-reviewed, quarterly, highly-indexed scientific journal publishing original research findings and reviews on all aspects of veterinary and animal sciences.
---
JAVAR follows the rules and regulations set by ICMJE (The International Committee of Medical Journal Editors)
---
AIMS & SCOPES OF JAVAR

Basic and applied researches in anatomy & histology, physiology, pharmacology & toxicology, pathology, microbiology, immunology, parasitology, veterinary medicine, surgery & obstetrics, public health, epidemiology, animal health economics, biotechnology, poultry science, dairy science, animal science, food hygiene and technology, biochemistry, genetics and breeding, animal reproduction, wildlife, zoo animal medicine, animal nutrition & veterinary extension studies.

---
Abbreviation:
J. Adv. Vet. Anim. Res.
DOI prefix:
10.5455/javar.
---
"

PERFECTION, THE CONCERN

"

Publish your works with JAVAR. Our duty is to reach your findings to the related scientific community around the globe through high-indexing and maximum circulation of the issues. Thank you.
-
Editor-in-Chief, JAVAR
---
Current Issue Update
| | | |
| --- | --- | --- |
| Volume-Issue | Acceptance Rate | Published articles |
| 4-1 (March 2017) | 62% | 15 |
---
March 2017 (Vol 4 Issue 1)
Issue has been published !!
Submit for the next ........


For Reviewer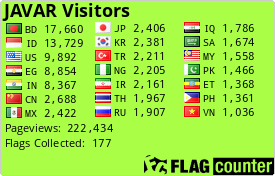 ---
---
All articles published by JAVAR are under the terms of the Creative Commons Attribution 3.0 Unported License. This permits anyone to copy, distribute, transmit and adapt the work provided the original work and source is appropriately cited.
---


Last Updated: Nov, 2016