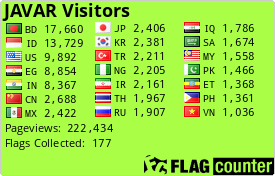 JAVAR Online First Articles
These are peer-reviewed, revised, and accepted articles, but not yet
assigned to an issue.
---
Antimicrobial profile of multidrug-resistant

Streptococcus

spp. isolated from dairy cows with clinical mastitis
Hala Abd El Menem Rizk Saed, Hussam Mohamed Mohamed Ibrahim



The emergence of novel coronavirus (COVID-19) in Bangladesh: Present status, challenges, and future management


Mohammad Shah Alam, Mohammad Zahangeer Alam, K. H. M. Nazmul Hussain Nazir, Md. Abdullahil Baki Bhuiyan





Announcement !!
If you have real-interest to
be a part of editorial and/or reviewer team, please send your resume to the editor for consideration. It is noted that the JAVAR is run by a group
of volunteer reviewers and editors who are experts
in the related fields.
---